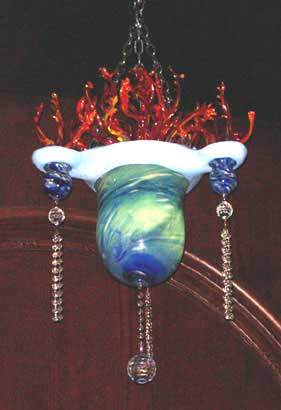 Lighting
Lighting is made to order. Each One is Unique.
There are many shape and style possibilities.

We Custom Design to fit your tastes and your space; from nightlights, wall, ceiling....any room indoor or outdoor.....
to magnificent entryway chandelier works of art.
You will notice two distinctive styles: Blown Glass
(fluid, rounded & flame like) and Fused Glass (Flatter Surface).
Blown Glass can be made to fit most fixtures. (Any fixture other than the kind with the little screws to hold the shade in place.)
It's possible to acquire a whole new look with a fixture you may already love, or find a fixture you love & we'll create the perfect shade to fit.
Blown Glass
Lamp Shades in many colors, sizes and shapes.
© 2009 Zohar Glass all right reserved. Design by Central Point Solutions.